Delta 8 Spray Tincture
Rift Delta 8 Spray Tincture is a perfectly flavored Delta-8 isolate tincture with a MCT carrier featuring a mess free spray cap.
**WARNING**
This product is psychoactive.
Do not drive or operate heavy machinery after use.
What is Delta 8?
Delta 8 THC chemically differs from Delta 9 THC by only a few atomic bonds and possesses many of the same beneficial qualities of Delta 9 THC, although Delta-8 is only about 70% as psychoactive as Delta 9 THC.
As a minor cannabinoid there's still a lot about Delta 8 that we don't know. You should always take a cautious approach when trying anything for the first time. If you're thinking about consuming Delta-8-THC, you need to be aware of the information we currently have available. Make sure you talk to your doctor before trying Delta 8 and get a professional opinion for your health.
Do not drive or operate heavy machinery after using this product. Keep out of reach of children. If you are subject to regular or random drug screening it is best not to use this product. Most standard drug tests will not be able to tell the difference between Delta 8 THC and Delta 9 THC.
More Information
Recommended Use of Pinnacle Hemp Rift Delta 8 Spray Tincture
Use as oral spray.
One spray is approximately 8mg Delta 8 THC. Spray under tongue and hold for 30 seconds before swallowing.
Ingredients
Hemp derived Delta 8 THC distillate, MCT Oil, Natural and Artificial flavors.
Other Top Rated Products
Multiverse 2000mg Spray Tincture
Introducing our newest and most innovative hemp tincture yet – the 2000mg Multiverse spray tincture. Offered in two different terpene profiles: Black Hole Blueberry (D9+THCO+THCP) and Stratosphere Strawberry (HHC+HHCO+THCP)
Explore the outer reaches of your mind or simply unwind after a long day, our Stratosphere Strawberry spray tincture is the perfect choice. With its potent…
View Product
Cartridge Sampler Pack
Introducing our exciting new bundle of cartridges featuring three unique terpene profiles to elevate your vaping experience. Our bundle includes a THCO Cartridge with the sweet and tropical Pineapple OG profile, a HHC Cartridge with the indulgent and dessert-like Gelato Cake profile, and a Delta 8 Cartridge with the bright and citrusy Tangie Sunrise profile.
View Product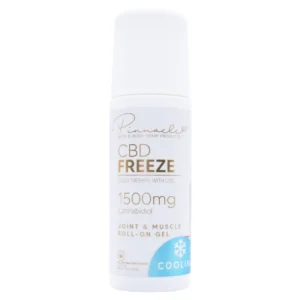 Roll-On CBD Freeze
Introducing Pinnacle Hemp's CBD Freeze, the revolutionary roll-on gel that provides fast-acting and long-lasting relief from pain and discomfort. Infused with the power of cannabidiol (CBD), this cooling gel works to help soothe sore muscles and joints.
Whether you're an athlete looking to recover after a tough workout or someone who suffers from chronic…
View Product